The blockchain market has had a period of sublimation but also many turbulent times. Let's follow the top Blockchain Trends 2023!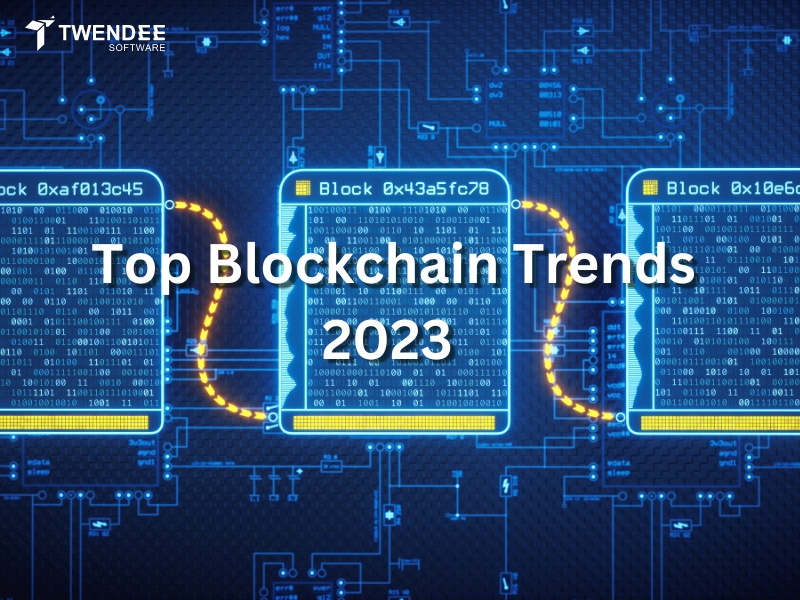 What is Blockchain?
This is a technology that allows us to securely and quickly transmit and store information on a complex cryptographic system. In simple terms, blockchain has the same function as the accounting ledger of businesses.
This is a new technology that greatly improves upon the limitations of the traditional way of storing and exchanging information. It is for this reason that blockchain has become an important tool in almost every industry and is increasingly being applied in many fields: economic and financial, education, agriculture, industry, etc. entertainment, healthcare, and education…
With the benefits that blockchain technology brings, will blockchain still maintain its place in this volatile technology market in 2023?
Top Blockchain Trends 2023  
Web 3.0 will end the crypto winter
Crypto Winter is the term used to describe the gloomy period of the cryptocurrency market when the prices of coins continuously fall and are difficult to recover for a long time. Along with that, a series of bad news items appeared, such as theft, fraud, and bans from regulators.
The past two years have been challenging for blockchain and Web 3.0. These technologies have been heavily affected by negative events such as the demise of Terra LUNA, the scandal surrounding Sam's founder, Bankman Fried, and the FTX cryptocurrency exchange.
Alex Onufriychuk, head of development for blockchain-based music crowdfunding platform Corite, said: "In 2022, I have seen many Web 2.0 companies accepting payments in crypto. "Digitize and improve blockchain technology by adding NFT to their services." The mass adoption of Web 3.0 elements by the aforementioned Web 2.0 companies is predicted to be the key to the crypto 'summer'. As this transition accelerates, designing a more intuitive user experience and interface will also be of greater interest to companies.
In addition, Mr. Vlad Shavlidze, founder and CEO of xDAO, shared: "The adoption of Web 3.0 elements by traditional Web 2.0 companies will start with three main factors, namely, simplicity, security, and applicability". This trend not only develops based on the above factors, but it also inherits some of the best features from Web 2.0 services.
Decentralized autonomous organization 
DAO (decentralized autonomous organization) is said to be the most important development trend of 2023. Alien Worlds is a simulated economy where players compete for resources. With the scarce resource Trilium (TLM), players use TLM to power up the game by staking and voting in the planet's decentralized autonomous organizations (DAOs). Alien Worlds has allowed players to be elected to the board of directors and to participate in deciding or monitoring the budget's spending.
In 2023, the decentralized autonomous organization is expected to provide a way to solve the current problems of centralization and lack of transparency in the cryptocurrency industry. Why is DAO getting more and more attention? The growing weight of decentralization may explain this question. Traditional financial institutions and national governments have a variety of user controls. The big guys in many fields have too much power and are inclined to abuse it. This is the agent that urges users to go beyond the limitations and take back the rights that belong to them. Besides, crypto's increasing value is also one of the reasons why DAO is getting more and more attention. From DeFi to NFT and fields like music, entertainment,… Crypto is attracting a fast-growing amount of value. To make it easier to take advantage of these advantages, creating DAOs with the participation of many parties will help them complement each other in terms of capital, experience, relationships, and many other factors.
The development of tools allows DAO to be applied in the production of economically useful goods. Such as financial tools for payroll, governance platforms, and blockchain-based collaboration software…
Artificial Intelligence (AI)
The birth of ChatGPT will create a big turning point when AI and blockchain can work together in harmony. Blockchain seeks the power and energy to run a network of computers. Meanwhile, AI uses machine learning to improve data performance, efficiency, and accuracy.
ChatGPT fever reached 1 million users in just 1 week of testing, with the ability to allow users to interact with virtual assistants in natural language with an unlimited range of exchanges. This has made AI the most anticipated technology trend of 2023. AI uses intelligent algorithms to optimize the most relevant recommendations for users. One of the strongest effects of AI in 2023 will be its impact on the labor market. While AI will certainly make some jobs disappear, it also creates many new ones instead. Employers will have a responsibility to think more about the impact of AI on the future of work and enable their workforce to make the most of the tools available to them to keep pace with AI.
DeFi 2.0
DeFi 2.0, or decentralized finance, is an upgraded version of DeFi, helping to overcome the weaknesses and optimize the advantages of current DeFi. For example, if a derivatives exchange runs 100% on DeFi, the processing speed is improved and it is more secure than DeFi 1.0.
The improvement of DeFi 2.0 gave rise to a new term, "real yield". Real yield in DeFi originates from the concept of real yield in finance, in which real yield is measured by nominal yield minus inflation. For example, if a bond yields 7% and inflation rises to 5% over the life of the bond, the bond's actual yield is 2%.
Blockchain trends 2023 in gaming 
Online trading using cryptocurrency offers gamers convenience and simplicity, making them ready to participate in blockchain-based games. More and more high-quality games are coming to the market, which means that blockchain technology will receive more attention. This trend is likely to become more evident in 2023 and could persist into 2024.
Besides, the rise of Metaverse has also helped increase the number of crypto users. Metaverse is essentially a shared virtual world that offers immersive user experiences. One of the key elements in metaverse design is decentralization, which will allow transparency and seamless access to the metaverse. In addition, the metaverse also relies on blockchain capabilities to ensure user administrative privileges and verifiable provenance.
Blockchain Trends 2023  will largely focus on supporting the metaverse of major tech companies. The adoption of metaverse games like The Sandbox and the new blockchain projects growing in the metaverse will boom in the year 2023. In addition, one can also look for metaverse game portals that offer benefits. monopolies as investment and social opportunities.
Monitoring and tracking vaccines using Blockchain
Like in 2021, the prevention of the COVID pandemic and the recovery of the global economy will still be top priorities in 2023. Comments show that Top Blockchain Trends 2023  will unleash all the capabilities of the blockchain. We can apply this to product output, parcel distribution, and port tracking.
Concerns about the production and sale of vaccines of unknown origin create a complex problem in controlling a global pandemic. In such cases, blockchain technology can not only act as a tool to effectively verify the authenticity of vaccine batches, but it can also help track the distribution of vaccines to ensure that the vaccine reaches the correct sites. Blockchain trends 2023 for vaccine production and distribution will be to verify vaccine integrity at various locations in the supply chain. For example, blockchain technology can help ensure consistent storage of vaccine batches at the right temperature.
Blockchain trends 2023 in environment treatment 
Blockchain technology is not only applied in the fields of healthcare, education, and finance, but Blockchain trends 2023 will also focus on the introduction of a green blockchain used to settle and manage financial transactions. Environmental problems are an urgent situation today.
Blockchain trends 2023 in recycling
The blockchain-based waste recycling program works through encryption. Participants in this program can be financially rewarded in the form of cryptocurrencies. In addition, it is easy for them to track various data and metrics, such as volume, cost, and profit, to gauge the impact of the program.
Social Plastic, also known as the Plastic Bank, is an example of a project that encourages recycling by setting up collection centers across third-world countries (and other countries as well), where people can exchange plastic waste for tokens. Plastic Bank participants get the highest return on plastic bottles compared to the local market; they also get bonuses.
Blockchain trends 2023 in energy 
The traditional grid is highly centralized so it can lead to uneven and inefficient energy distribution. First, it can lead to unused surpluses in well-to-do areas while creating large shortages in less well-off areas. In addition, the installation cost of power plants is prohibitive and will again lead to uneven distribution. A peer-to-peer blockchain network negates the need to transmit electricity over long distances, thereby reducing energy loss along the way. Those who install renewable energy systems powered by blockchain technology can benefit directly from any investment they have made.
Power Ledger is a prime example of this; the Australia-based company was founded in 2016. It provides an energy trading platform to sell and buy decentralized renewable energy.
Blockchain trends 2023 in carbon tax
Controlling the carbon footprint of each production operation is one way to apply blockchain to protect the environment. This work can be done easily and securely via the blockchain. Blockchain can also be used to create an immutable reputation system. This can be used to measure the reputation of companies based on how they are trying to reduce their carbon footprint.
Another aspect that also needs attention is the ability to track, record, and monitor emissions data. An example is "CO2 tokenization", which can be minted and ready to trade after being verified by a validator. Code can also be burned if owners choose to use it to offset carbon emissions. With the adoption of blockchain technology, it is harder for businesses to commit carbon emissions fraud because governments can easily track emissions in real time. Blockchain technology will help stakeholders use the community effect, transforming individual efforts into community efforts to further drive change to combat climate change and towards sustainable development.
It can be said that blockchain technology helps to shape the future of all professions and areas of life. Through this article, Twendee hopes you will have an overview of the Top Blockchain Trends 2023.
blockchain
blockchain trends